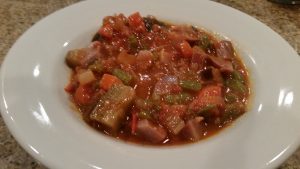 Ingredients:
2 Tablespoons avocado oil 1/2 pound purple potatoes, scrubbed and diced
1/2 cup onion, chopped 1/2 pound green beans, cut in 1/2″ slices
3 cloves of garlic, minced 1 sweet pepper, diced
1 red jalapeno pepper, minced 2 bay leaves
1 small eggplant or zucchini 1 tablespoon fresh parsley, chopped
32 ounces diced tomatoes 1 teaspoon dried oregano
1 stalk celery, diced 1 teaspoon black pepper
1 carrot, diced 1 cup broth, stock or water
Directions:
Heat 2 tablespoons of avocado oil in large stock pot. Add onion, carrot and celery. Stir & saute for 3 minutes. Add the garlic and jalapeno pepper; stir & cook for another 2 minutes.
Add remaining vegetables, tomatoes, potatoes and 1/4 cup avocado oil. Stir and add enough broth or water to just cover the vegetables. I used approximately 1 cup of broth. Stir in the herbs. Heat to a simmer, then reduce heat to low and cover.
Cook on low heat for 1 hour, stirring occasionally to prevent burning on the bottom.
I cooked this on the stove top, however, you could easily make this in the crock pot.