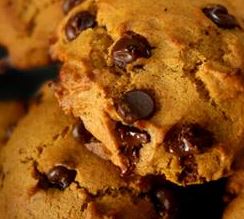 When pumpkin meets dark chocolate…YUM!
Ingredients:
4 cups flour and oatmeal – 1 1/2 cups whole wheat flour, 1 1/2 cups unbleached flour and 1 cup oatmeal
1 1/2 cups sugar – 3/4 brown and 3/4 cane
2 teaspoons cinnamon
1 teaspoon ginger
1/2 teaspoon nutmeg
1/4 teaspoon cloves
3 teaspoons leavening – 1 1/2 teaspoon baking soda and 1 1/2 teaspoons baking powder
1 teaspoon salt
1 3/4 cans solid pack pumpkin, approximately 26 ounces
1 cup oil – 1/2 cup butter, 1/2 cup coconut oil
2 eggs
2 teaspoons vanilla extract
1 1/2 cups dark chocolate chips
Directions:
1. In a mixing bowl, combine flour, oatmeal, sugars, spices, baking soda and baking powder and salt.
2. Add pumpkin, oil, eggs and vanilla; beat on medium speed until well mixed.
3. Stir in chocolate chips.
4. Drop by tablespoonfuls onto baking sheets. Bake at 375 degrees F for 13-14 minutes or until edges just begin to brown. Cool for 2 minutes and remove to a wire rack to cool completely. Enjoy!
* I use as much organic, all natural, the least refined products that I can easily find and afford. I purchase many of the baking ingredients online and in bulk at the local health food store. I use Equal Exchange organic bittersweet chocolate chips, 70% Cacao.