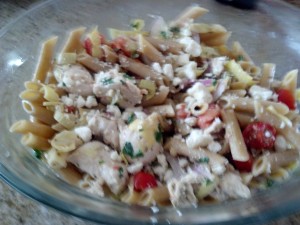 Ingredients:
1 pound pasta* 1 ½ large tomato, chopped
1 T organic cold pressed olive oil ½ cup crumbled raw organic goat cheese, feta
2 cloves garlic, minced 3 T chopped fresh parsley
½ Cup chopped red onion 2 T lemon juice
1 pound boneless, skinless chicken 2 T fresh chopped oregano
  Breast meat, cut into pieces                     Salt*** & organic pepper to taste
9.9 oz Whole Artichoke Hearts**
Drained & sliced
Directions:
Cook pasta according to package directions until al dente. *
Heat olive oil in a large skillet over medium-high heat. Add garlic and onion, saute for 2 minutes. Stir in the chicken. Cook, stirring occasionally, until chicken is no longer pink and the juices run clear, about 5 to 6 minutes.
Reduce heat to medium-low, and add the artichoke hearts, tomato, parsley, lemon juice, oregano and cooked pasta. Stir until heated through, about 2 to 3 minutes. Remove from heat, stir in feta cheese and season with salt and pepper.
*We prefer Andean Dream Organic Quinoa Pasta. Please follow package instructions to cook al dente. Rinse and drain.
**We like Native Forest Whole Artichoke Hearts
***Ancient Ocean Himalayan pink salt or Redmond Real Salt