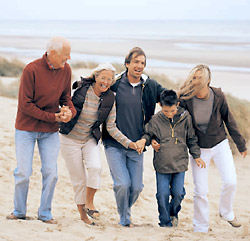 Does it seem like every time you turn around, someone is telling you about a friend, neighbor or loved one that has just been diagnosed with a serious disease or illness?  Not only are we seeing more people diagnosed with health challenges, we are seeing it in younger and younger people, even children and infants.
According to the American Cancer Society, 1 in 2 men and 1 in 3 women in the United States will develop some type of cancer in their lifetime (www.cancer.org). When I learned this and looked at our family of 6, I decided then and there that we would not be a statistic!
Preventing disease includes actions taken to decrease the chance of developing an illness or condition.  This consists of avoiding risk factors and increasing protective factors. Many people say, "Ok, I am going to get healthy"!  One of the first things they do is start exercising or join a gym. That can be a good thing, but if you don't build a good foundation, you can actually do yourself more harm than good. It is not complicated, it is just something most of us were not taught, at least I wasn't!  SIMPLY, if you put your body in the right environment, it will do what it is meant to do, which is heal itself!
Optimizing your health doesn't happen overnight.  It starts with the decision to take responsibility for your health. It begins with educating yourself, changing habits, and then incorporating them into your life, one by one. I have found that if you take one step at a time, you won't become overwhelmed and give up.
If you are ready to take that step, if you are sick and tired of being sick and tired, you have come to the right place!  You may never know what you have prevented!